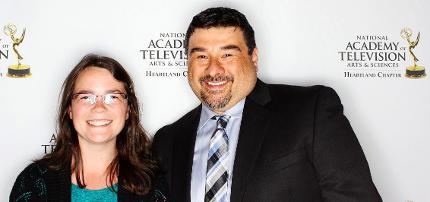 My students are regional and national award winning visual storytellers.
Jeffrey Dallet
2018 Future Broadcaster Award - Colorado Broadcaster Association

2018 Best of Festival Winner - Broadcast Educator Association

2018 Emmy Nomination - Heartland Regional Emmys
Tanya Kisakova
Darin Valdez
2015 Documentary Honorable Mention - Broadcast Educators Association
I've won 5 Regional Emmys, 3 Colorado Broadcasters Association awards, a Edward R. Murrow award and I'm the only person ever to win the title of Video Editor of the Year by the National Press Photographer Association 4 times.
I am a nationally recognized video professional. I have over 20 years of video production experience.


My company, Thunderhead Media, produces videos for non-profits, corporate training, presentations, corporate conferences, business profiles, and children's events.


I have a passion for visual storytelling. I enjoy it so much I want everyone to know how to tell a story visually. I teach Journalism as well.


My passion for instruction guided me, lecturing in nearly 30 states at conferences, colleges, news-stations and workshops.


Along with being the CEO of Thunderhead Media, I am an Assistant Professor in the Journalism & Media Studies program at the University of Northern Colorado. Previously I instructed in the Video Production & Editing Program Emily Griffith Technical College. Before that I was an Adjunct Professor at Front Range Community College in the Multimedia Graphic Design Program.


My passion spills over into blogs I write. I started The Edit Foundry, an educational blog with an emphasis in video editing in 2008. The Edit Foundry was named one of the 50 best blogs for Movie Makers by Movie Maker Magazine.
I would love to hear from you if you are interested in working together on a project, being tutored or if you just have a few questions about this crazy media world we are in.
Shawn
This is my latest documentary; Project-Based Learning at Meadowlark Elementary & The COVID Impact
Shawn Montano is the owner of Thunderhead Media. He has 20 years of Video Production experience. Shawn has worked in all 5 Television newsrooms in Denver as well as produced documentaries and programs for the Discovery Health Channel and ROOT SPORTS.
AWARDS